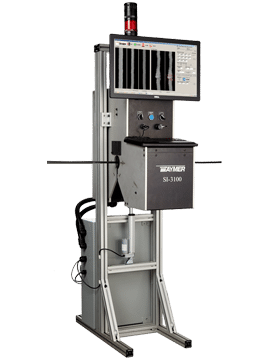 WI1300
Wrap Defect Inspector
The Wrap Defect Inspector is the most thorough method of detecting wrapping flaws such as pitcth and overlap. With Taymer's Wrap Defect Inspector, you can be sure the product going to your customers meets your high standards and is without defects.
Reduced Defects
The Wrap Defect Inspector provides the operator with a view of current surface images as well as the most recent defects with defect dimensions. This continuous stream of real time information – especially failure data – allows the operator to isolate the causes of wrapping imperfections, surface scratches, miss-wraps, peeling, tearing or water soluble tape folds. Identifying when and how a defect occurs allows your technical staff to reduce occurrences of surface defects and prevent customer complaints and rejects.
Quality Assurance
The Wrap Defect Inspector will capture images of your printed cable, save the images to disk and allow you to print them out to include in your quality reporting both internally and to your customers. The Wrap Defect Inspector's display also makes it easy for engineering and production supervisors to examine the defect without having to see the defect itself. Defect locations are recorded together with the image of the defect allowing your operators to find and eliminate defects before they reach your customers or fail in the field.
The Wrap Defect Inspector will catch defects on the cable before they reach your customers or fail in the field
Features
Detects tape miss-wraps, surface scratches, tape tears, tape peeling, wrinkles and more
Supports line speeds up to 400 meters per minute
One to four camera configurations available depending on coverage required and minimum defect requirement
Alerts operators and production machinery for any defects
Records any defects for QA records and operator verification
Saves length for the detected defects to allow operators to easily locate them
Software analyzes 100% of product length and full circumference (depending on camera configuration)
Maximum Line speed:
400 meters per minute / 1,300 feet per minute – Exact speed will depend on application
Minimum detectable defect size:
0.1 mm and up Exact size depends on application
Cable Diameter Range:
0.5 mm – 30 mm (Other diameters upon request)
Camera Configuration

4 Camera – 100% coverage of large cable diameters (>30mm)
3 Camera – 100% coverage of all cable diameters (<30mm)
2 Camera – detects most defects (narrow cable diameter range)
1 Camera – inspects wrapping information such as lay angle and distance (narrow cable diameter range)

Pixels per square mm

~100 for large diameter cable jackets and tapes
~500 for small diameter cable jackets and tapes

Percent overlap between images:
5%
Image processing:
All images from all cameras are read, enhanced and analyzed, resulting in 100% product coverage at maximum line speed
Type of defects detected

Mis-Wraps
Surface Scratches
Tape Tears
Tape Pealing
Water soluble tape coverage
Wrinkles

Lighting:
LED
Location:
Before Printer, on wires without print legends
Power Supply:
110V or 220V depending on choice
Dimensions

18″ x 18″ x 20″ – L x W x H (without stand)
457 x 457 x 508mm – L x W x H
Custom stands can be built