Cable & Wire Inspection Equipment
Vision-Based Surface Inspection for the Wire and Cable Industry
Taymer's camera vision systems are operational in many plants all over the world. These systems include surface inspection, print verification, color verification, dimensional control, as well as product characteristic comparison. Taymer's experience stems from over 60 years in the Wire & Cable industry providing expertise and cooperation by listening to the customer's defect challenges and providing the perfect detection solution. The smallest of defects are revealed at very high speeds on continuous product lines.
For the last two decades, this knowledge has been applied and developed into numerous new applications ranging from catheter inspection to liquid level control, and from offline parts inspection to inline optical character recognition on labelled packages. The sky is the limit for camera-based applications, be sure to give us a call or drop us a line if you would like to discuss how we can support you in your production.
Looking for Print Inspection? Click here
Surface Inspection System is an advanced tool available for operators to completely ensure cable jacket is defect free on high speed production lines. The surface inspection system will help you reduce costs in your production facilities through reduced rework and improved productivity.
The Surface Inspection (SI) series vision systems have been designed to capture, analyze, and judge every square millimetre of your product. The series has different camera configurations in order to adapt to your specific requirements and are the most thorough methods of detecting surface flaws available.
Surface Inspectors are used on products like: cable jackets, pipes, tubes, bar stocks, water soluble tapes and more with detectable surface defects including pinholes, bulges, neckdowns, surface blemishes, discolorations, tape mis-wrapping, wrinkles, tears and many more.
SI2100
Surface Inspection – Dual View
Our dual-camera-view SI2100 system enables simultaneous inspection of two different surfaces at once. In typical applications, the SI2100 inspects flat products (strips, wires, etc.) from top to bottom.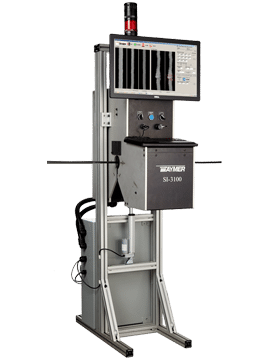 SI3100
Surface Defect Detection
The SI3100 can inspect small to medium diameter cables, pipes, and tubes with three separate cameras. Take photos of surfaces and dimensions of your product to reduce the possibility of product defects.
SI4100
Large ODs Surface Inspector
A larger diameter cable, pipe, or tube can be inspected using the SI4100, which has an additional camera to ensure that every part of your continuous product is inspected. 
SI4100-LP
Surface Inspector Cams & Laser
Every square millimeter of your product will be captured by the SI4100-LP Cameras and Laser Profiler. It is the most thorough method of detecting surface flaws available.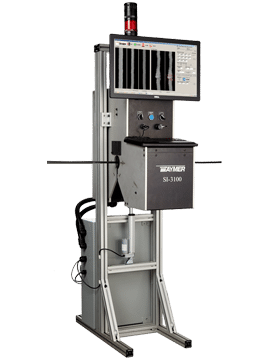 WI1300
Wrap Defect Inspector
The Wrap Defect Inspector is the only tool available capable of performing thorough inspections of wrapped cables for wrapping flaws such as wrong pitch angle and overlap.
CV2000
Continuous Color Verification
The Color Verification system allows the operator to receive instantaneous digital image feedback about the current color quality for any production line.
SI1100
Surface Inspection – Single View
Inspect a specific area of your product with the SI1100 single-camera system. Inspection of welds and flat products, such as bars, tape, and profiles, is the primary use of this system.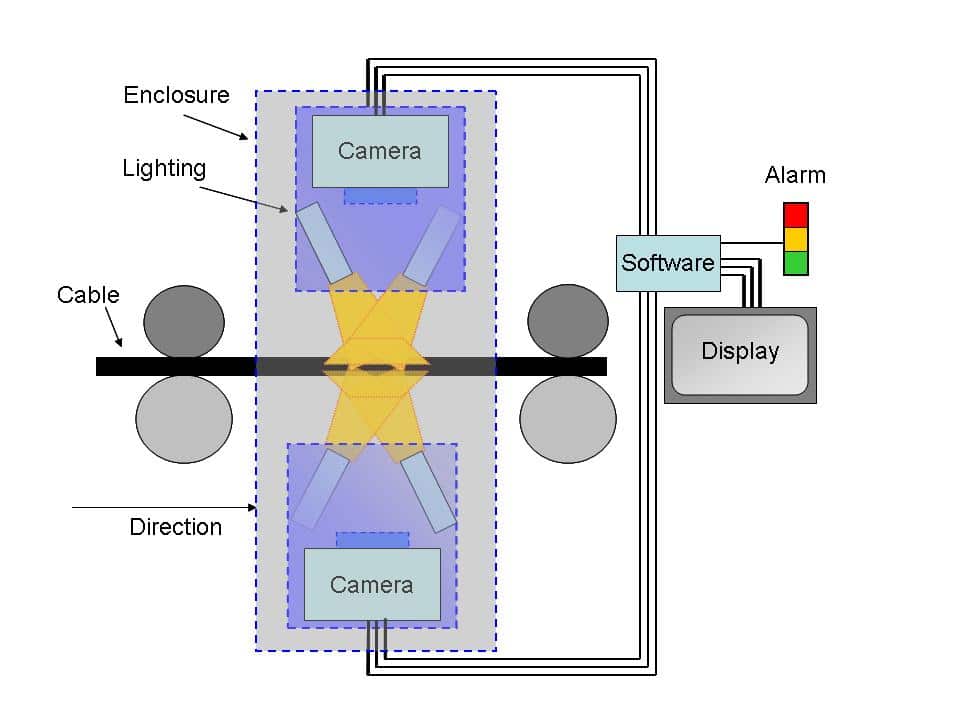 How it works
The surface defect detection and surface inspection system consists of multiple high resolution cameras and adequate lighting to capture images of cable moving at high speed.
Multiple cameras are required to cover the full circumference of the cable.
To ensure consistency, the setup features an enclosure to prevent ambient lighting from affecting the results.
Advance algorithm is used to process the images for surface inspection.
A typical algorithm is capable of detecting cable surface defects such as surface blemishes, holes, neck-downs, and bumps.
If a surface defect is detected, an alarm will notify your operator and an error report is saved to the ongoing data log.