LR600
High Accuracy Cable Length Counter
The Length Rite 600 will help you reduce costs in your production facilities by providing you with the most accurate cable length measurement in the industry.
The advanced control system for the Length Rite 600 allows operators to digitally input to other length measuring devices (such as a marker) to ensure uniformity of results. Operators have up to two length measurement presets as well as a customizable output.
When used with a marker, cable length measurement information can be printed on the product, ensuring the highest accuracy on print for your customers.
Features
Dedicated, easy to read, digital cable counter easy-to-read display
Dedicated, easy to read, Line Speed Display
State of the art electronics system allowing for multiple inputs and outputs
Highly accurate +/-0.05%
Pneumatic raise and lower of the encoder assembly
Height adjust for varying line heights
Easy belt removal and installation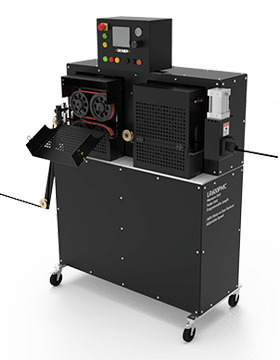 LR600-PMC
Pull, Measure, Cut!
Taymer's 600 PMC was specifically designed for high volume cut to length wire manufacturers and OEMs in the transportation industries. Taymer's 600 PMC process produces consistent cut to length product fast.
View video on Youtube.
Applications
Length measurement on a variety of products including cables, bare wire, pipe, and tubing. The machine features are also customizable to fit your application needs.
Start a live chat with one of our agents to find out more or send us an email through our contact form.
Maximum Speed:
1000 feet / minute
300 meters / minute
Wire and Cable Size:
0.025″ – 1.65″
0.635 mm – 41 mm
Measurement Accuracy:
+/- 0.05%
Weight (without base):
50 lbs.
23 kg
Weight (with base):
125 lbs.
57 kg
Dimensions (with base):
28″ x 24″ x 70″ (L x W x H)
711 mm x 610 mm x 1778 mm (L x W x H)
Dimensions (without base):
26″ x 18″ x 30″ (L x W x H)
660 mm x 457 mm x 762 mm (L x W x H)
Available Outputs: (PLC controller option)

Cable Counter
Line Speed
Contact Closure: Exceed Input Footage 1
Contact Closure: Exceed Input Footage 2
Contact Closure: Customizable
Inputs:
Remote reset
Measurement Units:
Both Footage and Metric
Belt:
Polyurethane, steel reinforced, incompressible belt
Cable Counter Display:
6 digits, dedicated
Mode Display:
2 characters by 20 characters
Speed Display:
6 digits, dedicated
Reset:
Push button and automatic
Calibration:
Easily programmable using keypad
Power:
115/240 VAC 50/60 Hz
Mount:
Solid, bolt down base comes standard (Optional – Caster base with leveling screws)